Best Tires for Toyota Prius
If you're looking for the best tires for your Toyota Prius, then look no further! In this article, we will discuss the best options on the market and what to consider when making your purchase.
So what is the best tire to buy for your Toyota Prius? The answer will depend highly on what you value most in a tire.
There are a huge number of variables but we have put together all the information in this article to reflect the most important aspects when it comes to choosing the best tires for your Toyota Prius.
10 Best tires for Toyota Prius
The Toyota Prius is a popular hybrid car, and has been designed to to used mainly in town and on the highway. It has a focus on being economical and therefore the best tires for your Toyota Prius will be ones that help it be as economical as possible whilst providing high levels of performance.
However, the best tires for your Toyota Prius will depend on your driving habits and needs. This is because we all need tires that that can handle both city and highway driving. Therefore we have picked these 10 tires as the best tire for your Toyota Prius.
Pros
Latest high performance tire
Best results in braking and dry and wet
Comfortable ride
Quiet
Cons
Expensive
Low fuel efficiency
Not the highest score for longevity
When it comes to the outright best tires which will offer the highest levels of performance for your Toyota Prius, you should look no further than the brand new Continental Extreme Contact Sport.
The Continental Extreme Contact Sport is an ultra high performance summer tire designed to have optimum grip in the dry and wet. It is the new flagship tire released by Continental, replacing the previously raved about model, the Continental SportContact 6 which has been with us for nearly 6 years.  
When tested against its direct rivals, these tires came out on top as the best in wet braking and handling by a considerable margin. They were also the fastest in dry conditions with the shortest braking distance. 
Where the Continental Extreme Contact Sport excel is in their performance at speed. With stronger turn-in bite and mid-corner grip, these tires feel very direct. There is confidence inspiring feedback through the steering wheel, and this gives you confidence in your car every time you turn the wheel.
Continental have said that the new Continental Extreme Contact Sport is a more bespoke tire with a carcass construction, optimised for all types of vehicles from SUV's to hatchbacks and even electric vehicles.
The trade off we found with these tires for all their performance is poor aquaplaning resistance, meaning they are unable to score top marks for wet performance. There is also an increase in rolling resistance, increasing fuel consumption. 
For owners for whom the very best performance in the dry is as important as in wet conditions, the Continental Extreme Contact Sport is the current tire of choice.
Pros
Best overall performance tire
Great wet performance
Fantastic grip at all speeds
Appealing design
Cons
Poor aquaplaning resistance
Expensive
The Michelin Pilot Sport 4S is a tire that was designed with one purpose in mind, and that is to be the best performing summer tire on the market.
Michelin have achieved this by creating a tire with some of the highest levels of grip, handling and braking that we have seen in dry conditions.
In our testing, the Michelin Pilot Sport 4S took first place in the dry handling and braking tests by a significant margin. It was also the second quickest tire in the dry around the handling course.
The secret to the success of the Michelin Pilot Sport is in its compound. Michelin use a mixture of polymers which gives the tire fantastic grip in both dry and wet conditions, all without compromising on tread life.
The Michelin Pilot Sport is also very good in the wet, taking second place in our wet braking test and third place in our wet handling test.
The only area where the Michelin Pilot Sport falls down is in its poor aquaplaning resistance. This is because the tire has a very wide tread width which causes it to float on top of the water rather than cut through it.
Overall, the Michelin Pilot Sport is a fantastic tire that offers class leading performance in both dry and wet conditions.
Pros
Top performing Eco Tire
Highest rated tire for efficiency
Reduce overall running costs
Great grip in all conditions
Very short braking distances
Cons
Not the cheapest
Firm ride
Hard compound makes slightly noisier
The Michelin Energy Saver A/S is a Multi-Award winning eco-friendly tire. It is an All Season tire that offers all the performance you would expect from Michelin along with some of the best longevity and fuel efficiency available in a tire today.
The Michelin Energy Saver has a unique tread compound which is designed to reduce rolling resistance. This reduces fuel consumption and CO₂ emissions. In fact, Michelin claim that these tires can reduce fuel consumption by up to 12%.
In independent tests, the Michelin Energy Saver A/S performed well, with very good scores in both the dry and wet. In the dry they offered good grip and handling, while in the wet they were very impressive, with short braking distances and good aquaplaning resistance.
One area where the Michelin Energy Saver didn't perform so well was in comfort. The tires are designed to be hard-wearing and this does result in a firm ride. However, this is a small price to pay for the other benefits on offer.
While they cant quite match the Continental Sport Contact in the dry, they did make up for it by scoring far better in the wet.
Overall, the Michelin Energy Saver is an excellent all-round tire and would be a great choice for any Toyota Prius owner looking to reduce their fuel consumption.
Pros
Very versatile tires
Excellent all round performance
Designed for smoothness
High levels of durability
Cons
Expensive
Compromises performance to be good all round
Not very economical
The Continental TrueContact Tour continues to be one of the best all round tires available on the market. Their all-season design makes it one of the most versatile tires on all surfaces and their main strengths are evident on wetter and even icy roads. 
The Continental TrueContact Tour tires excel in wet conditions. This is due to their biting edge design to help grip the road in more challenging conditions. The cross patterns and symmetrical design also makes them very averse to hydroplaning, inspiring confidence in them and your vehicle in wet and slippery conditions. 
They have been designed with an emphasis on smoothness and longevity, making these tires ideal for people looking to do a lot of miles in their vehicles. They are available in a large range of sizes for all vehicles, so you can know that they will be more than suitable for your Toyota Prius.
Continental offers these tires with up to a 80,000KM limited mileage warranty, and when tested we found the tread life can comfortably last this amount under normal driving conditions. They also return one of the highest miles per gallon of all comparable tires in its class.  
These tires also come with performance indicators to help tell you when the tire needs replacing.
Continental have also designed these tires with an additional vibration and stress-absorbing internal layer, helping to absorb road noise for a quiet ride. The price of these tires make them very good value and we would be very happy to have them on our Prius.
Pros
Designed for poor weather and tackle all conditions
Very few comprimises
Excellent grip in all conditions
Available with cash incentives
Cons
Other tires are more economical
Being a premium brand they are not cheap
The Goodyear Assurance WeatherReady is one of the most popular tires in the Goodyear range. Knowing this, it is easily one of the best tires for Toyota Prius. It is designed to tackle very poor weather and gives you peace of mind knowing it is capable of performing in the harshest of conditions. 
This all season tire has very few compromises and is comparable with some of the best tires on the market. It is designed with an asymmetric tread pattern that allows the tire to expel water and keep the maximum amount of contact with the road.
The tire performs as well as any other all season tire in dry weather conditions and offers great grip and cornering ability. It is comparable to a summer tire with its high levels of responsiveness and is one of the more sporty all season tires that we tested. 
The stand out point is their ability to tackle wet and even snowy conditions, as well as being very able in the dry with a very good tread life. This makes it ideal if you plan to drive your Toyota Prius in a number of different conditions.
The Goodyear Assurance WeatherReady continues to provide excellent grip and traction, inspiring confidence in these challenging conditions. Very few tires are as versatile.
However, if you are looking to do many motorway miles in these, you will notice a small increase in fuel consumption, or shorter range in an electric vehicle. 
These tires should be a serious consideration when picking new tires for your new vehicle. They are competitively priced for their performance and there are also plenty of cash incentives available for these tires, making them even more affordable. 
Pros
Best winter tire on the market
Strong wet performance
Very good braking ability in snow and ice
Cons
Not to be used in warm and dry conditions
Firm ride
Can be noisy at speed
Poor economy
If you are looking for a winter tire for your Toyota Prius, Look no further than the Bridgestone Blizzak WS90. This is the latest version of the Blizzak tire, replacing the popular WS80. The WS90 was designed to be an improved WS80 tire, rather than a whole new tire. 
This new Bridgestone Blizzak WS90 tire excels in cold and wet conditions. This is thanks to its large and wide flat design, which helps to maximise the contact patch with the ground.
The design also features biting edges which act like studs and help the tire grip in snow, a feature which is unique to these tires. 
The WS90 has improved water evacuation over the WS80 which was already class leading for wet driving and grip. This helps give the tire some of the best winter and wet performance and braking available today.
To achieve this impressive wet and winter performance, the tire is more rigid than its predecessor the WS80, which does increase the road noise of the tire slightly and give the tire a firmer ride also. The biggest negative of this tire is its poor economy. This is a trade off to be expected however for a tire with this level of winter performance. 
The WS90 is slightly more pricey than the WS80, which does add up to make a noticeable difference if you are buying an entire set of tires.
The WS80 is still worth considering, but for the best tire for winter and wet conditions in areas particularly susceptible to ice and snow, the Bridgestone Blizzak WS90 is the best currently on the market.
Pros
Affordable
Stable performance in dry and wet
Designed for quietness and comfort
Cons
Smaller Brand
Bad in extreme weather conditions
When on a budget, it is important to pick a tire that suits your Toyota Prius and wont compromise safety when driving and the Doral SDL- Sport is the best of the lot.
Doral is a tire brand which is affiliated with the Sumitomo tire brand.
Dorals most popular tires are the Doral SDL-Sport which has a unique tread pattern that is designed to provide good traction in both wet and dry conditions. Along with their unique all season compound, they are able to offer very reliable and dependable all season tires. 
Doral is able to keep the noise of their Doral SDL-Sport tires down thanks to their computer optoimised tread pattern, which helps to reduce vibrations and improve their overall ride and comfort.  
Knowing that Doral tires are affiliated with Sumitomo tires should be enough for anyone to take them seriously when in the market for a budget all-season tire. They are offer with an impressive 45,000 mile warranty which makes them extremely good value for money thanks to their low starting price.
Overall Doral tires are a good choice for the average driver who is looking to buy tires that will be kind to their wallet. While they only offer a slim range of products, these products are all a decent quality and offer good value for money.
If you live in an area with extreme weather conditions, then Doral tires may not be the best choice for you. However, if you're looking for an all-around good tire that won't break the bank, then Doral is definitely worth considering.
Pros
Designed for comfort and quietness
Good at highway driving and long distances
Characteristics of high performance tires
Cons
Lower performance than more reputable brands
Longer stopping distances in wet weather
The Cooper CS5 Ultra Touring is Cooper Tires answer to an All-season tire with a focus on performance. The CS in the Cooper CS-Series tires stands for Comfort and Silent. This is a range of touring tires designed to provide enhanced levels of comfort and a quiet ride.
The Cooper CS-Series tires feature a silica-enhanced tread compound which helps to improve the traction of the tire, while still providing a long lasting tread life. The CS-Series tires also feature a symmetric tread pattern which helps to improve the stability and handling of the tire.
Its other strengths include increased performance in wet conditions and light snow, as well as increased resistance to hydroplaning and a reduction in road noise due to its unique tread pattern.
The Cooper CS-Series tires are a good choice for those looking for a touring tire with enhanced levels of comfort and performance. If you find yourself doing a lot of highway and long distance driving in your Toyota Prius and dont want to break the bank, Cooper Tires are a large, reputable and well known tire brand you can trust.
These tires also come with a 70,000 miles mileage warranty and are one of the best tires for Toyota Prius.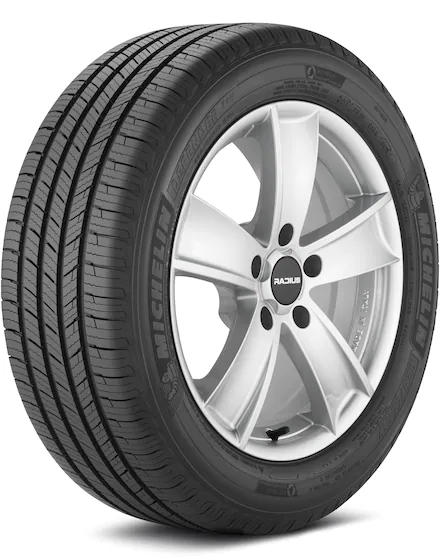 Pros
Michelins Longest wearing tire
Best performing All-season tire
Economical
80,000 Km treadwear warranty
Cons
Smaller range of sizes
Less performance at high speeds
Better tires in dry conditions
Michelin continues its reputation as one of the best and longest wearing tires with its Michelin Defender T+H. The T+H in the name stands for Tire and Handler, which is a pretty accurate description of what this tire offers.
This is an all-season tire that is designed for those who want Michelin quality without having to pay for their top of the line tires. The Defender T+H features Michelin's Max Touch Construction which helps to increase the tread life of the tire.
It also features an advanced tread compound which helps to improve the grip of the tire in both wet and dry conditions. The Defender T+H also features Michelin's patented IntelliSipe technology which help to improve the traction of the tire in both wet and dry conditions.
The Michelin Defender T+H tire was one of the most responsive tires in our testing and shows off its superior handling and grip in dry conditions. It was not quite as good in wet conditions but still provided more than enough feedback and felt safe on the road. 
These tires showed good capability on the snow and ice, however there were other tires that performed better in this list in these conditions. We also found that unlike the other Michelin tires we tested, these tires showed an improvement in fuel economy. 
These tires come with an impressive 80,000 miles tread wear warranty and are among the best tires for tread wear life currently available on the market.
Pros
Rated for sedans and larger vehicles
Maintains responsiveness in wet weather
Comfortable
Affordable
Cons
Not the best wet braking
Better all season tires available for snow and ice
Louder than other tires
The Nexen Aria Ah7 is an all-season passenger tire for passenger vehicles and light trucks and amongst the best tires for Toyota Prius. The treads have wider grooves that are optimal for wet conditions. The tires also include a stiff block intended for improved cornering, so expect your daily commute to feel steady and smooth.
Where the Nexen Aria AH7 tires really sine is on long distance jouneys. They provide a comfortable and quiet ride, which is just what you need on a road trip. They also have excellent tread wear and come with a 60,000-mile warranty, which is one of the longest in this list.
The Nexen Aria AH7 also have good snow and ice performance. They may not be the best in this list, but they will still get you where you need to go in winter weather.
Overall, the Nexen Aria AH7 is a good all-season tire for those who do mostly highway driving. They provide a smooth and comfortable ride, with excellent tread life and you'll get a quiet tire that wears evenly.
If you're looking to stick with the same tires all season, the Aria AH7 will deliver on comfort and affordability for your Toyota Prius.
Conclusion
There you have it! These are the best tires for Toyota Prius. Depending on your driving habits and needs, any one of these tires would be a great choice for your vehicle.
We hope this article was helpful in your search for your next tire purchase. If you have any questions then please leave a comment below or get in touch via email or through social media and we will read and respond to every comment, email or question. Thanks for reading!