This is the updated Maxxis Tires review to help you know if it's the right brand for you.
Maxxis Tires are a brand that has developed a reputation for quality tires at a very competitive price point and it is this reputation that has allowed the Taiwanese tire manufacturer to grow impressively within the US tire market. But a reputation alone is not enough to determine whether you should buy these tires which is why we have had our team perform a full and detailed analysis of the Maxxis tire brand.
Our Maxxis Tires review will dive in deep on the brand itself, the quality and performance of Maxxis tires as well as a look at some of the most popular Maxxis tires on the market today.
About Maxxis Tires
What started out as a small bicycle tire maker from Taiwan in 1967 has blossomed into a global tire powerhouse that distributes to 170 different countries.
In the 1980's the company finally entered the US tire market, opening its first distribution facility in the suburbs of Atlanta in 1985. And as the tires grew more popular within the United States, the company had to move to a larger, flagship facility in Suwanee, Georgia as well as open a number of other facilities in places like Grapevine, Texas and Rancho Cucamonga, California.
Today Maxxis produces tires for passenger cars and light light trucks as well as motorbikes, trailers, lawnmowers and of course, bicycles.
Maxxis automotive tires are known for being a budget friendly option but that really doesn't paint the full picture. Maxxis have put enormous emphasis on research and development that has allowed the company to stay at the cutting edge in terms of tire technology. This push has culminated in the development of a $150 million test track in Kunshan, China where they can really put their tires to the test.
Maxxis Tires Review
Now that you have a birdseye understanding of Maxxis brands, let's take a deeper look at the product itself.
Maxxis Tires at a Glance
Maxxis tires are both incredibly well priced and perform surprisingly well, particularly when compared to other budget tires. They are reliable in good driving conditions but there are certainly better options when in adverse weather or road conditions. Handling is good if a little bit different to other tires though you can get used to it.
Pros
Great performance especially for the price
Durable and manufactured with quality materials
Comfortable drive
Cons
Not the best performer in adverse weather and road conditions
Not the most extensive selection
Handling can feel different to what you are used to
Maxxis Tires Pricing
Calling Maxxis a budget tire company really doesn't tell the whole story, but they do have  tires at incredibly competitive prices. At the lower end, you can pick up a set of Victra VR-1 from as low as $86 per tire.
Maxxis Tires Performance
For a budget tire, Maxxis holds up incredibly well. Maxxis Tires are known for their consistent commitment to innovative design and tire technology, delivering commendable performance across a diverse range of driving conditions. Their philosophy revolves around providing high-quality performance tires at an affordable price, without compromising on handling, comfort, or durability.
One of the distinguishing features of Maxxis Tires is their adaptive sidewalls and modified treads. From the Maxxis Razr MT to the Bravo Series AT-771, each tire design demonstrates a unique balance between off-road capability and daily commuting needs. 
For instance, the Razr MT boasts a tread compound that is resistant to cuts and chips, alongside a deep tread depth and a sturdy construction. This design, combined with a symmetrical tread pattern and debris ejectors, provides a comfortable yet durable tire perfect for SUVs and 4x4s. 
On the other hand, the Bravo Series AT-771 is an all-season, all-terrain tire designed for light trucks and SUVs, with impressive wet grip and braking performance thanks to the use of circumferential grooves and additional sipes.
Maxxis Tires' designs always focus on three key areas: Handling, Comfort, and Durability. With regards to handling, Maxxis employs shoulder blocks to enhance lateral handling and stability, especially at higher speeds. 
For comfort, the brand uses its proprietary Adaptive Response Sidewall technology to provide a smooth, stable ride regardless of the terrain. As for durability, Maxxis Tires feature a spiral-wound cap ply and robust sidewalls to withstand rough terrains and prevent punctures. Additionally, their tires come with debris ejectors to keep harmful particles at bay.
Maxxis' technological advancements extend to their use of outer shoulder blocks, wide circumferential grooves, and advanced tread compounds. The outer shoulder blocks provide enhanced lateral handling and grip, while the wide circumferential grooves ensure minimal hydroplaning in wet conditions. 
The advanced tread compounds, combined with stone ejectors, allow for maximum protection against rough off-road conditions and potential punctures.
But it's not just us that have been impressive with Maxxis tire performance as Maxxis beat out the likes of Michelin and Goodyear to win Swedish magazine Vi Bilägare's 225/45 R17 contest
However, there are a few points worth noting about Maxxis Tires performance. They might not be the best performers in wet or snowy conditions, and their tread could wear more quickly on rough terrain. 
The handling of Maxxis Tires can also feel a bit different compared to other manufacturers, which might require an adjustment period for some drivers.
Finally, we did find that Maxxis don't always have the best range, so you might not find the perfect option for your vehicle.
Maxxis Tires Warranty
Maxxis offers a Limited Warranty for radial passenger and light truck tires, applicable only to original purchasers who meet specific conditions, such as installing the tire on the vehicle at the time of purchase and adhering to the manufacturer's recommended size and load range. 
This warranty covers materials and workmanship, offering free replacement (excluding labor and taxes) during the first 50% of tread wear. Beyond this point, Maxxis provides a prorated credit towards a new tire, based on the percentage of usable tread remaining. 
The warranty also includes limited treadwear coverage, which offers replacement charges based on the actual mileage in relation to the tire model's specified mileage, excluding certain commercial and emergency service vehicles. 
However, it is important to note that this warranty does not cover various instances such as road hazards, improper operation or maintenance, irregular tread wear due to factors like improper wheel alignment, and tire alterations, among others. 
The warranty is non-transferable and requires the presentation of the original purchase receipt and maintenance records at the time of the claim.
Most Maxxis Tires typically come with a 50,000 mile warranty but this can vary from tire to tire.
Maxxis Tires Customer Reviews
Here are a few reviews from real Maxxis Customers so you can get a feel for how other drivers like the brand.

Matthew R. Verified Buyer 10/07/21
5.0 star rating
Great Track Tire 
Tires are fantastic, we had been running Toyo R888R on our Miata. These are much better, much higher level of grip but still predictable at the limit. I am very impressed. They were significantly faster around Sebring and I am looking forward to testing them at other tracks.
Reviewed on: Victra RC-1
Robert O. Verified Buyer 05/20/22
5.0 star rating
I'd buy them again 
I drive a track prepped S2000 and spent 2 days at VIR. Temp was 70 in the morning and 84 mid day. Perfectly dry conditions.  
Tires have tons of grip even after 9-10 laps. Pressures were easy to set and held constant all day. Turn in is strong and when you're at the limit they squeal a bit which is helpful. At the end of day 2 I went out and set 4 personal bests in a row with a passenger. Laps times were very consistent. 

Definitely purchase another set.
Reviewed on: Victra RC-1
Joseph H. Verified Buyer 03/20/23
5.0 star rating
A perfect replacement for the compact spare tire on my Lincoln LS. 
This is a perfect replacement for the 17″ compact spare tire on my 2002 Lincoln LS. My old, unused Firestone spare exploded in the trunk. And I couldn't find a replacement compact spare tire anywhere locally, including junk yards. While searching an internet forum for Lincoln LS owners, I found out about Maxxis. I ordered online, the tire was shipped quickly, and the date code was recent. Problem solved.
Reviewed on: Compact Spare Tire
Popular Maxxis Tires
Here are a couple of Maxxis's most popular offerings.
Maxxis Razr MT
The Maxxis Razr MT is a stellar option for SUVs and 4x4s, providing an exceptional blend of superior off-road prowess and smooth on-road handling. With advanced technology at play, this tire features a cut and chip resistant tread compound, enhancing its lifespan and ensuring a smooth ride. Boasting a remarkable 20/32-inch tread depth, it surpasses most of its competitors in durability and longevity. This tire's construction is notable for its symmetrical tread pattern, which incorporates sculpted center blocks and debris ejectors for uncompromised traction. Additionally, its robust build comprises a 3-ply polyester sidewall and multiple layers of polyester, nylon, and steel belts to fortify casing strength. Impressively, despite its rugged features, the tire guarantees a quiet on-road ride.
Popular
The Maxxis Razr MT is a stellar option for SUVs and 4x4s, providing an exceptional blend of superior off-road prowess and smooth on-road handling. With advanced technology at play, this tire features a cut and chip resistant tread compound, enhancing its lifespan and ensuring a smooth ride.
Pros
Superior off-road performance.
Cut and chip resistant tread compound.
Impressive tread depth for increased durability.
Provides a quiet on-road ride.
Cons
Could be overkill for those who rarely go off-road.
Might not be as comfortable on-road compared to dedicated road tires.
Maxxis Bravo Series AT-771
The Maxxis Bravo Series AT-771 is a versatile all-season, all-terrain tire designed for light trucks, jeeps, and SUVs. This tire uses an advanced tread compound along with an optimized design to ensure reliable traction and handling both on and off the road. The AT-771 is engineered with a staggered shoulder lug design, 3-D tread blocks, and a stiff carcass, all of which contribute to even tread wear, superior stability, traction, and enhanced durability. Additionally, four U-shaped circumferential grooves and extra sipes offer excellent wet traction, reducing the risk of hydroplaning, and improving grip on snowy and icy conditions.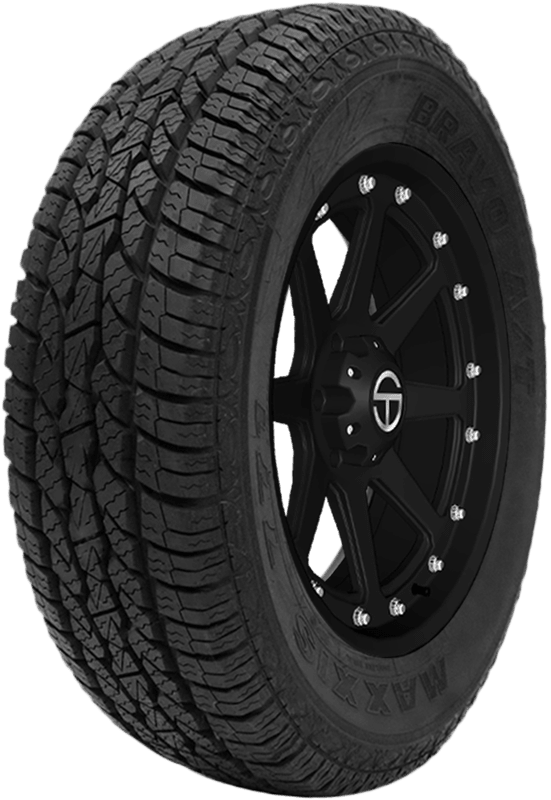 Popular
The Maxxis Bravo Series AT-771 is a versatile all-season, all-terrain tire designed for light trucks, jeeps, and SUVs. This tire uses an advanced tread compound along with an optimized design to ensure reliable traction and handling both on and off the road.
Pros
Good all-season, all-terrain performance.
Advanced tread compound enhances traction.
Additional grooves and sipes for superior wet and snowy traction.
Cons
Might not be as specialized in either on-road or off-road performance as dedicated tires.
Traction in extreme off-road conditions could be better.
Other Maxxis Tire Reviews
Summary
Maxxis Tires are far more than a simple budget tire. They perform incredibly well and even sometimes beat out the heavy hitters of the industry. The company has dedicated plenty of resources to the constant development and testing of their tires to ensure you have a fantastic product. So, if you're looking for a cheaper tire that still holds up, then Maxxis tires are a great option for you.