The Best Tires for Kia Sorento
If you are the proud owner of a Kia Sorento, then you know that it is a great vehicle. But did you know that the type of tires you have on your Sorento can make a big difference in how it performs?
That's why we tested the top 10 tires for a range of different applications and found that the best tires for Kia Sorento's to be the Yokohama Avid Ascend.
In this blog post, we will discuss the best tires for Kia Sorento's for a variety of purposes and help you choose the right set for your vehicle.
Best Tires for Kia Sorento
Before you can begin picking between the best tires for your Kia Sorento, you need to make sure to check the size of your specific wheels and tires that will fit. 
The current Kia Sorento has tire sizes of 245/70R16, 235/65R17, 245/65R17, 235/60R18 and 235/55R19. The size will depend on the exact model and specifically the size of the wheels that you have on your Sorento. You can find this information on your tires sidewall.
Pros
More affordable than competitions
Excellent overall performance
Good aquaplaning resistance
Large range of sizes
Cons
Slightly louder than rivals
Becomes louder as it wears down
The Yokohama Avid Ascend is Yokohamas flagship all season touring tire for a large range of vehicles. It has been designed with a focus on dry performance, traction in the wet and on vehicle stability. 
We have rated the Yokohama Avid Ascend as the best overall tire as it is recommended by Kia as the tire of choice for when it comes to replacing the tires on your Sorento. They also come as standard on new Kia Sorento's sold in the USA.
The Yokohama Avid Ascend features a mildly asymmetric design and a large contact patch with the road which helps give it one of the best all round performance of an all season tires that we tested for large vehicles. 
It is this large contact patch which unfortunately gives this tire less performance in snow and ice. This is due to it being unable to evacuate the snow from under the tire and grip in these conditions.
It does feature a large amount of cross groves to help it evacuate water. It also is designed with a more stiff internal structure which helps give the tire a more precise and immediate reaction from driving inputs. This does mean however that it is not the quietest tire and this does worsen the more a tire is worn down. 
Overall, the Yokohama Avid Ascend a very good tire in all areas, and is ideal as a more affordable tire with all the characteristics of a high performance tire.
Pros
Very strong dry summer tire
Top rated comfortable performance tire
Very responsive steering feel
Stable at fast highway speeds
Cons
Shorter than average tread life
Average wet performance
The Cooper Zeon RS3-G1 is Cooper tires Ultra High Performance Summer tire. It achieves this for a fraction of the price of other high performance tires, although the performance is not quite as good as the premium brands which is to be expected.
The Cooper Zeon RS3-G1 achieves its high performance by using a very soft compound which gives it fantastic grip in the dry. This is especially noticeable when cornering at high speeds where the tire really clings to the road.
The Cooper Zeon RS3-G1 ranked as the most comfortable high performance tire and comes with a 45,000 miles warranty. However it doesn't have the longest tread life and it performs averagely in the wet.
In our tests, the Cooper Zeon RS3-G1 was the quickest tire around the dry handling course and also had the shortest stopping distances in both the dry and wet braking tests.
The only area where the Cooper Zeon RS3-G1 falls down is in its aquaplaning resistance which is poor due to the very wide tread width.
Overall, the Cooper Zeon RS3-G1 is a great choice for those looking for a high performance tire on a budget.
Pros
Scored highly for fuel efficiency
Comfortable ride and resistance to wear
Appealing design
Excellent aquaplaning resistance
Cons
Not as strong performance as other tires
Less responsiveness
The Goodyear EfficientGrip Performance is a tire which is designed to offer good fuel economy without sacrificing too much in the way of grip and performance.
The Goodyear EfficientGrip Performance uses a compound which is designed to be soft enough to grip the road well, but also hard enough to resist wear and give good fuel economy.
The Goodyear EfficientGrip Performance is a very good all round tire and offers good grip in both the dry and wet. It also has excellent aquaplaning resistance and is very comfortable. It also comes with a modern up to date design on the tire sidewall which compliments the sleek and modern look of your Kia Sorento.
Fuel economy is where this tire really excels however, and it was the best of all the tires tested in this area.
The Goodyear EfficientGrip Performance is a great choice for those looking to save money on fuel without sacrificing too much in the way of performance and grip.
Pros
Summer tire with best wet performance
Not as expensive as competitors
Available with run-flat technology
Improved efficiency over previous model
Cons
Not the quietest tire
Poor in snow and icy testing
Lacks refinement compared to premium brands
The Bridgestone Turanza ER33 is another summer tire with exceptional performance in wet conditions. It has earned awards as the highest rated tire for braking and turning on wet roads and also has been awarded the EU Label Grade A for wet grip. 
The Bridgestone Turanza ER33 tread pattern is designed with high blocks in the shoulder area of the tire and a wide gap in the centre work. These factors work together to help disperse water from the tire surface quickly and reduce the chance of hydroplaning. We did find however that in wet conditions the tires did slip occasionally under heavier acceleration. 
It also offers an 11% improvement on tread life over its predecessor, and overall scores well for fuel efficiency due to its design, offering low rolling resistance. Bridgestone also offers these tires with the option of additional Run-Flat Technology if you like the extra peace of mind that this offers. 
We found these tires to be slightly noisier than other comparable tires, and not particularly strong in snowy and icy conditions. It also lacks in some other areas of refinement compared to other more premium tires.
All things considered however, the Bridgestone Turanza ER33 is an inexpensive tire that offers a fantastic level of confidence and grip in wet and challenging conditions. For this reason, we think it is one of the best tires for wet roads available on sale today.
Pros
Winter tire with high levels of dry performance
Short braking distances
Eco friendly
Long tread life
Cons
Not designed for comfort
Smaller range of sizes
The Continental WinterContact SI is a winter tire that offers excellent levels of grip and traction in snow and icy conditions. It also provides good handling and braking performance on dry roads.
The WinterContact SI has a special tread compound which is designed to stay pliable at low temperatures, providing good grip on cold, snowy roads. The tread pattern is also designed to provide good levels of traction and grip in deep snow.
The WinterContact SI performed exceptionally well in our tests, with short braking distances and good handling on both dry and wet roads. It was also very impressive in the snow, with excellent levels of traction and grip.
One area where the WinterContact SI didn't perform so well was in comfort. The tires are designed to be hard-wearing and this does result in a firm ride. However, this is a small price to pay for the other benefits on offer.
Overall, the Continental WinterContact SI is an excellent all-round tire and would be a great choice for any owner looking to reduce their fuel consumption.
Pros
Very capable tires with little compromises
Long lasting tread wear
Very high limited warranty
Designed for SUV's and larger vehicles
Cons
Some fuel economy lost
Not the quietest tire on test
The Michelin Defender LTX M/S came out as one of the best tires for Kia Sorento's because of its all round great performance with little compromise in any of our main areas of testing. 
These are all-season tires designed specifically for SUV's and this is indicated by the LTX indication on the tires. We recommend these tires as they are designed specifically for larger vehicles and crossovers and are sure to be suitable for your Sorento. 
These tires are quiet and comfortable on all road surfaces, and we were especially impressed with its ability on snow and ice. It has excellent grip and would also be our choice of tire if you are thinking of towing heavy loads. 
All-season tires usually compromise on tread life to ensure that they have good grip on all surfaces and during all weathers. However we were very impressed by the tread life of these tires and they surpassed our expectations. 
Michelin offer up to 115,000KM limited warranty on these tires which is class leading for this tire. 
We did notice that with this tire you do lose a small amount of fuel economy. They also didn't score the best for road noise, but these minor points do not detract from what is an otherwise fantastic tire.
Pros
Quietest tires for Kia Sorento
Short braking distances
Strong steering feel
Versatile in different conditions
Cons
Worse Wet performance
Prone to uneven wearing and premature tread wear
The Bridgestone Turanza QuietTrack is the replacement for the very popular Bridgestone Turanza Serenity Plus. These all season tires are designed to offer the best possible traction and handling, especially in their quietness and comfort, which makes them ideal for those of us where quietness and comfort from your vehicle important.
In dry conditions we found that they were one of the best performing tires. This performance didn't quite carry over into the wet conditions, but they still offered plenty of feedback and the braking distance was shorter than nearly all its rivals. 
The main issue we have seen with these tires is that they regularly don't meet their advertised tread life of 80,000 miles. We have seen some tires last as little as 25,000 before needing to be replaced. This is most often caused by driving style but can also be caused by their softer compound.
Being called the QuietTrack, these tires are rated as the quietest tire for Kia Sorento's. Where they shine is in their comfort, a point they also provided over changing road surfaces and over rough terrain. 
These tires are not the most expensive which makes them worth considering. We would recommend keeping an eye on the tire pressures and to drive smoothly to ensure that they wear at an even rate, so that you don't find yourself needing to change them prematurely.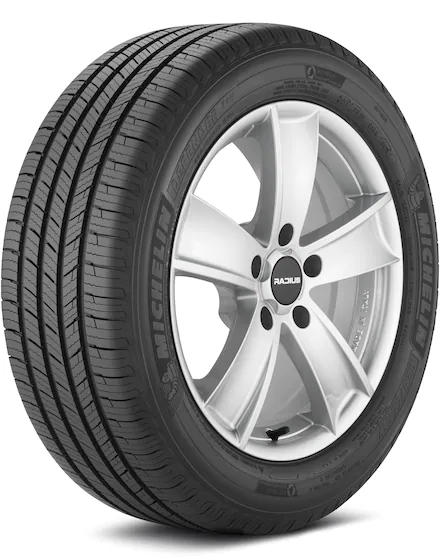 Pros
Michelins Longest wearing tire
Best performing All-season tire
Economical
80,000 Km treadwear warranty
Cons
Smaller range of sizes
Less performance at high speeds
Better tires for dry conditions
Michelin continues its reputation as one of the best and longest wearing tires with its Michelin Defender T+H. The T+H in the name stands for Tire and Handler, which is a pretty accurate description of what this tire offers.
This is an all-season tire that is designed for those who want Michelin quality without having to pay for their top of the line tires. The Defender T+H features Michelin's Max Touch Construction which helps to increase the tread life of the tire.
It also features an advanced tread compound which helps to improve the grip of the tire in both wet and dry conditions. The Defender T+H also features Michelin's patented IntelliSipe technology which help to improve the traction of the tire in both wet and dry conditions.
The Michelin Defender T+H tire was one of the most responsive tires in our testing and shows off its superior handling and grip in dry conditions. It was not quite as good in wet conditions but still provided more than enough feedback and felt safe on the road. 
These tires showed good capability on the snow and ice, however there were other tires that performed better in this list in these conditions. We also found that unlike the other Michelin tires we tested, these tires showed an improvement in fuel economy. 
These tires come with an impressive 80,000 miles tread wear warranty and are among the best tires for tread wear life currently available on the market.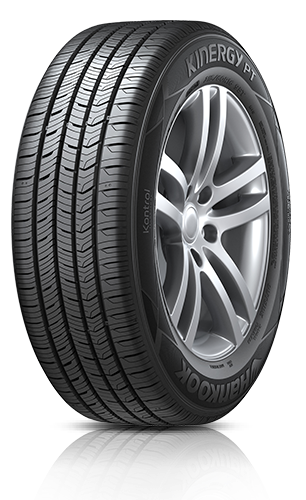 Pros
Eco friendly tire
Class leading warranty
Comfortable and quiet with focus on longevity
Large range of sizes
Cons
Expensive
Trades overall performance for longevity
The Hankook Kinergy PT (H737) All Season Tires are our top pick for the best touring tire for your Kia Sorento. These tires provide a great balance between performance and comfort and perform excellently well in both dry and wet conditions.
The Hankook Kinergy PT (H737) All Season Tires are Premium Touring all-season tires which offer strong performance in all areas. They provide excellent traction and handling in both dry and wet conditions, thanks to their tread pattern and compound. These tires also offer a comfortable ride and are very quiet on the road.
The Hankook Kinergy PT (H737) All Season Tires are very popular tires that often come as standard on many other new vehicles . This means you can be confident in knowing that these tires have been specially picked for this vehicle and are designed to help your Kia perform at its very best.
They also come with a 90,000 mile warranty which is class leading for tires of its kind. It also helps to lower your vehicles running costs with its specially designed ultra low rolling resistance compound.
If you are looking for a great all-round tire for your Kia Sorento, then we highly recommend the Hankook Kinergy PT (H737) All Season Tires.
Pros
Large reputable brand in the USA
Rated as "Best all-round tire"
Very affordable
Helps you achieve a good gas mileage
Cons
Not designed for high performance
Low performer in wet conditions
The Cooper Evolution Tour is Coopers All-season tire which has gained a lot of attention as their best all round tire for average drivers. It excels with comfort and has a low rolling resistance which helps to lower your gas consumption.
The Cooper Evolution Tour performs well in dry conditions and has very good reviews with more than 84% of customers saying that they would buy again. With proper maintenance, it should comfortably reach its advertised 65,000 miles mileage warranty.
This tire also performs admirably in the wet with good reviews from customers, however it is not as strong as some of the other tires tested in this area.
The Evolution Tour is a very good all-rounder and is one of the most affordable tires that we tested for Suv's such as the Kia Sorento. It should give you good service for many miles if it is properly maintained.
Conclusion
So there you have it, our top ten picks of the best tires for your Kia Sorento. As mentioned before, always remember to double check the size fits your specific vehicles wheels before purchasing new tires.
We hope this article was helpful in your search for your next tire purchase. If you have any questions then please leave a comment below or get in touch via email or through social media and we will read and respond to every comment, email or question. Thanks for reading!